DVD-R Printing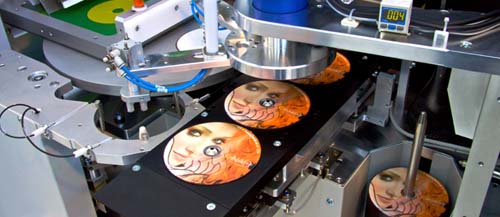 Which printing method is best for your DVD-R Printing Project?
Selecting the best disc printing technology for your project depends on the following variables: order quantity, number of printing colors, label art design, and the size of your DVD-R media (Standard DVD-R, Mini DVD-R). The four disc printing methods and when to use them are described below.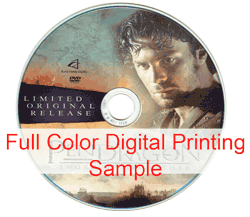 Sample of Digitally Printed DVD-R
The new kid on the block. Our newest DVD-R printing method is digital printing directly to the surface of the disc (click here to see pricing). Because the printing process is digital, it eliminates many of the setup costs required with offset printing and silk screen printing. This allows us to cost effectively print high quality full color images directly to the disc surface in small order quantities.
The typical order quantity for digital DVD-R printing is from 100 to 2000 discs.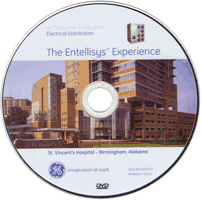 Sample of Offset Printed DVD-R
High resolution offset printing is the best disc printing method for artwork with full color printing (photos, logos, blends in the artwork). This disc printing process is typically ordered in quantities of 1500 discs or more. For projects printing in smaller quantities, the Digital Printing process is less expensive. Offset printing prints in CMYK inks over a white ink background.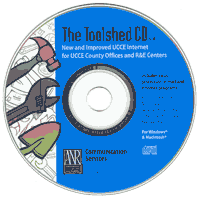 Sample of Silk Screen Printed DVD-R
If the CD-R artwork prints in spot colors (solid PMS colors) then silk screen printing is the best printing method. We can print from one to five spot colors. Silk screen printing prints artwork with areas of solid color better than any other disc printing method.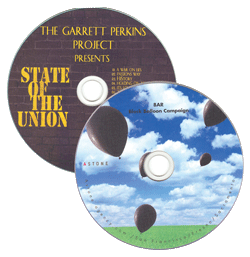 Sample of DVD-R with Gloss Paper Label
First we digitally print in full color printing to a gloss paper label. Then the label is applied to the surface of the DVD-R. There are two advantages to this printing method. 1. The minimum order quantity can be as low as 25 pieces. 2. Very fast production times. Typically these project are complete within two business days (including duplication).
Use the chart below to see which printing options are available for your media size.
That's a lot of options. Have questions? Call us or send us an e-mail. We are happy to discuss your project with you and to provide you with the best options for the lowest cost for your project.
Specialty media printing. Have a unique disc printing need? Need to print on ink jet printable media? Need custom printed re-writable media? Something else? Contact us to discus the options. We are disc printing experts and have probably seen your special need before.
Business Replication & Print
6520 Lonetree Boulevard, Suite 128
Rocklin, CA 95765

(916) 789-9929