Short Run CD-R Duplication, Printing, and Packaging
Need the quality of a CD, but only need a short run? Need them in a hurry? Our high speed CD-R duplication equipment allows us to meet your your short-run or ultra-fast turnaround requirements.
We provide two different printing methods for the disc priting. Option 1 is a full color printing to a gloss paper label, which is then adhered to the disc surface.
Option two is full color digital printing directly to the CD-R surface.
Both options look good. The cost and production time varies with the order quantity. Typically the gloss paper label solution is faster. This option is also less expensive for smaller order quantities.
If your order quantity is over 400 units and the content is the same for all discs, cd replication (molded manufacturing process) will provide the lowest cost and highest quality CD.
Option 1
CD-R Duplication with Gloss Paper Label

Cost effective in small quantities.
Most projects are completed in 48 Hours!

CD-R Duplication with Full Color Gloss Label
Our pricing below includes:
High Quality CD-R Media
Data Duplication
Full Color Gloss Label
Insertion into a Paper CD Sleeve
You supply:
A pre-mastered CD-R for the disc content
An electronic art file of the disc label artwork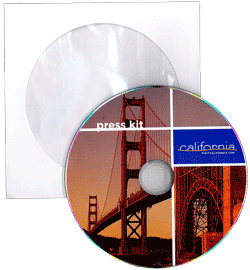 Full Color Gloss Label and Paper CD Sleeve
Number of Copies
Unit Cost
25 - 49
$3.45 / disc
50 - 99
$2.55 / disc
100 - 199
$2.10 / disc
200 - 299
$1.78 / disc
300 +
$1.65 / disc
For larger order quantities we recommend CD Replication.
Click here to request an written estimate: CD-R Duplication Estimate Form
Click here to view the CD-R Gloss Label template.
Option 2
DVD-R Duplication with Digital Printing Directly to the Disc Surface, Inserted into Paper Sleeve
We are looking forward to serving you. Contact us if we may be of any assistance (ph: 916-789-9929 e-mail sales@bizreplication.com ). Complete our CD-R duplication estimate form to receive a written estimate.
Business Replication and Print, Inc. respects and supports the copyrights of others. Completion of the Intellectual Property Rights Form, and Indemnification Letter is required for all projects.
All orders are subject to our standard Terms and Conditions.
Business Replication & Print
6520 Lonetree Boulevard, Suite 128
Rocklin, CA 95765

(916) 789-9929